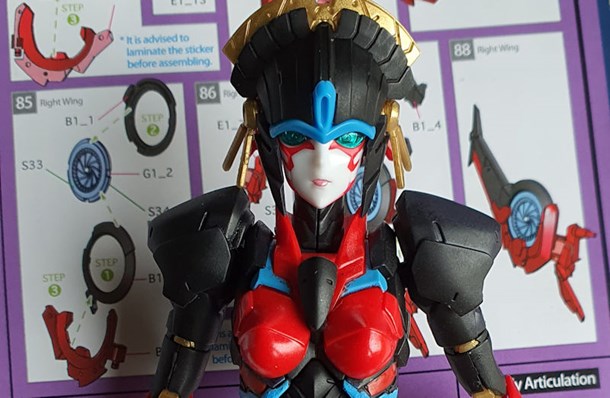 ---
Building FlameToys Windblade
Posted on 05 Apr 2022
---
As a total novice when it comes to building kits, I tend to shy away from the kits I'd really want for fear of ruining them. The FlameToys Windblade proved somewhat irresistible however, combining mecha with a cute anime aesthetic and a £40 price tag.
While I haven't been building kits, I have spent the last few years customising my Transformers and working on dioramas, so I have a fair bit of paint, an airbrush and various other tools lying about that meant I felt fairly confident I'd be able to do a half decent job. The FlameToys kits are snap together, so no glue is required. Windblade's colour scheme is a lovely red, black and gold combination, so I only really needed 3 colours. As my airbrush was on the fritz, I picked up some Tamiya spray cans (Red, Matt Black and Gold) and got to work.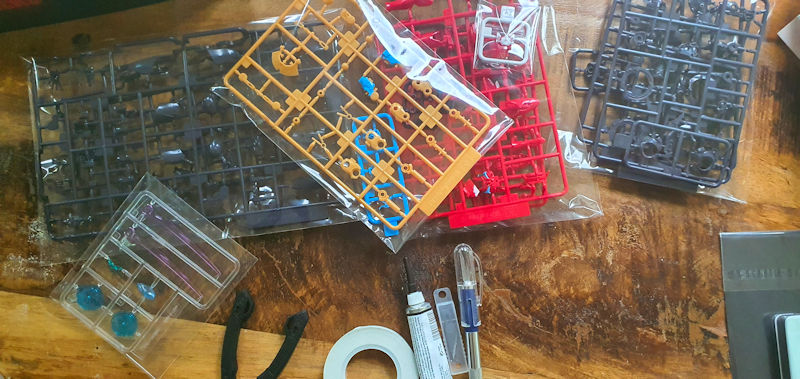 Windblade is made up of a lot of VERY small pieces!
Because I wasn't interested in adding shaded detail as you might wish to for skin tone or hair, I decided to spray the parts on the sprue. There are only about 4 pieces (excluding the face) that have any factory applied painted detail, so I masked off those areas and blasted everything I needed with a few layers of paint and then sealed with a matte varnish for the blacks, gloss for the gold and reds.
Once this was done, the rest was (relatively) straightforward. The instructions are clear and the tolerances on the pegs are good, though thanks to my inexperience I managed to break two parts. The firs was a knee joint that badly needed some grease. I twisted the peg right off trying to articulate it. The second breakage was the rear wing, which attaches to it's twin through a connection on the shoulder, but due to the resistance, I twisted the bottom and broke the peg.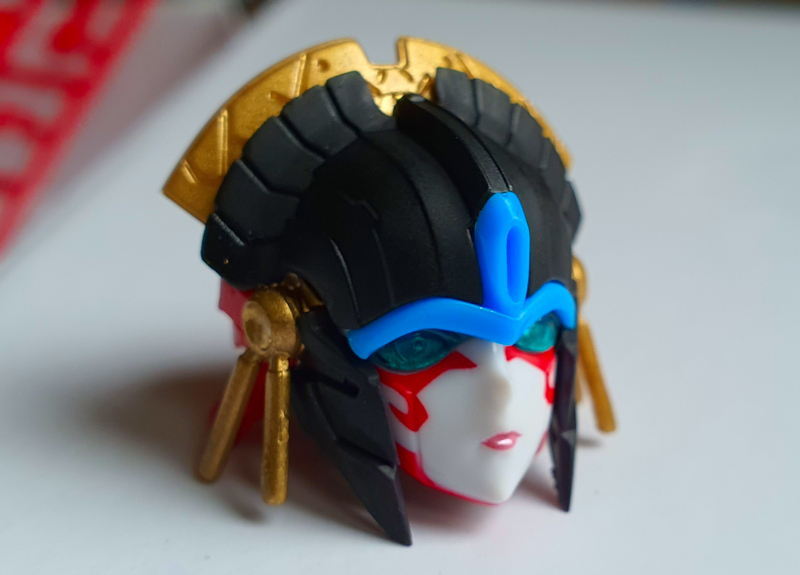 Windblade - Headmaster!
With the kit sold out almost everywhere, I was lucky enough to find a UK seller who no longer wanted theirs, though I had to wait three very frustrating weeks for it to arrive. Once I had the replacement parts (properly greased!) everything went together very well and she stood finished. And I love the results.
Firstly, the matte black against the gloss candy-apple red looks sublime. The gold accents in the joints also pop, and though I don't care much for the thin stickers that come with her, I managed to get the gold ringlets on the turbines thanks to some tweezers.
What I like about the kit is that it's minimal in terms of investment - hell, you can build it without even painting it if you want to and she'll still look fantastic. The face is painted and the smaller details across the chest are done for you, so you can do as much or as little as you like - even painting her is just 3 cans of paint.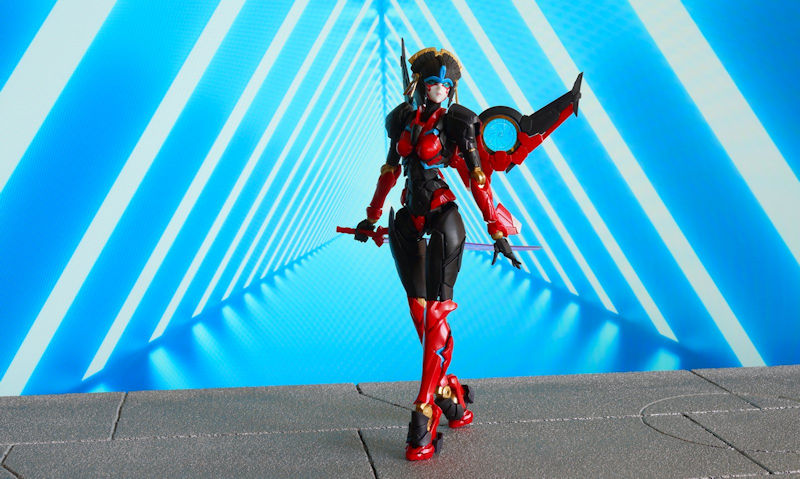 The finished figure has tons of articulation. The head is on a ball joint, the wings can be adjusted, there are rotation pints on the biceps, elbows and wrists, the knees have a double joint and the entire torso can be elongated to allow for a huge ab-crunch. Basically, she's a dream to pose on the shelf.
On top of that, just look at the gorgeous design! It's graceful, detailed and beautifully realised. From the golden fan adorning her crown to the fabulous high-heels, she's absolutely stunning. There was some bruhaha about her being "over sexualised" when first announced, but I think they got the balance spot on here - cute and endearing, but never slutty, FlameToys Windblade is a class act. Well worth all the work to build her.
For £39.99, you can safely experiment here. True, the aftermarket price has become a bit daft, but if you have some patience there are still some UK vendors like Animegami taking pre-orders, as well as ShowZ, though the price is averaging at £65 now. Even then, if you're a fan of cute girls, mecha and Transformers, this is a fun kit that's easy to assemble and offers terrific results.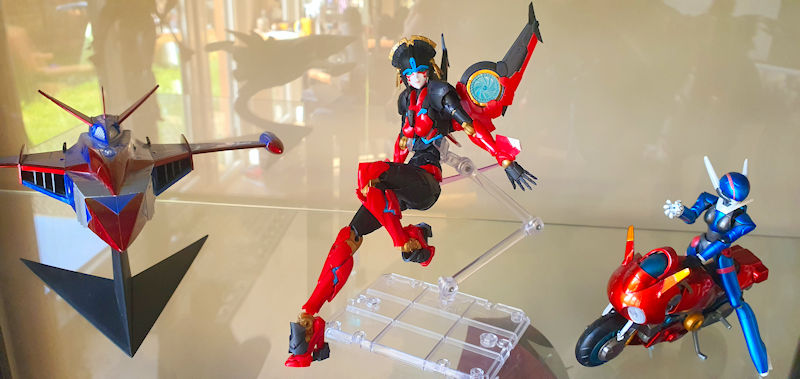 She fits right in on the shelf - such a lovely range of motion on those legs too!
Follow A.I. on Twitter and Like us on Facebook to get all the latest site updates