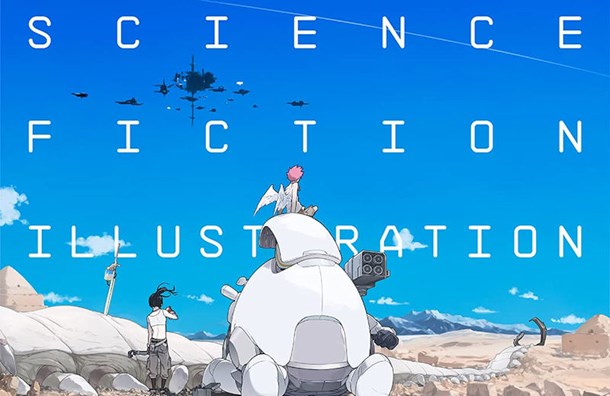 ---
Science Fiction Illustration
Posted on 21 Jan 2022
---
For me, artbooks serve many different functions. Those that feature portrait artwork, such as Rachta Lin's crowdfunded books, feed my need for fashion, attractive characters and beautiful renderings of my favourite characters. Studio books, which showcase design work in major motion pictures like Blade Runner or Zootopia are an invaluable insight into creating a singular world, with explanations about thought processes and imaginative flights of fancy that I can only ever aspire to.
Books like Science Fiction Illustration, which collect multiple works around a central theme, are like a whiplash tour of the galaxy, whisking you to countless worlds and vistas that could exist beyond our known sphere. Each type of book serves a need, but when I want to go full "imagination tourist", PIE's illustration collections are what I pick off the shelf.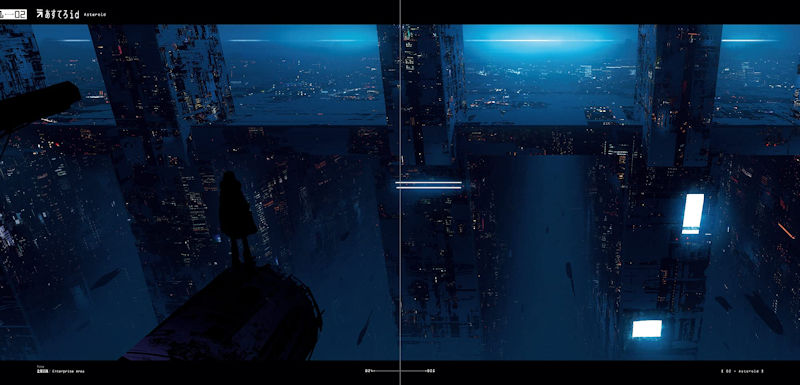 Dark and Brooding cityscape - Enterprise Area by Asteroid
The preamble from "The Editors of PIE International" explaining the rationale behind the book was exciting - firstly, it was in both Japanese and English, a good sign for what was to come and - yes - illustration notes are in both languages too! This immediately propels the book to the top of my illustrations catalogue as I find these notes, sometimes brief but never unhelpful, hugely enticing. As a reader I'm often hungry for a nugget of insight into the work in front of me, and just the title of a piece can change your perspective of what's laid out in front of you. I'm put in mind of Doctor Who's better days and the painting entitled "Gallifrey Falls" and "No More".
A picture may be worth a thousand words, but better to have one thousand and four I think!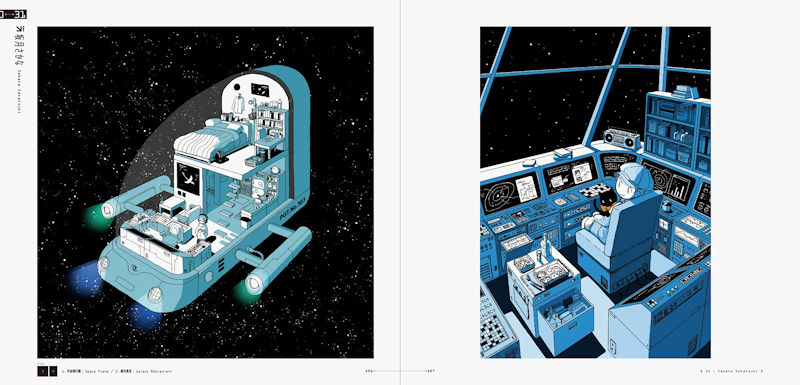 The lighter side of space, Space Plane and Galaxy Restaurant by Sekana Salatsuki
So enough hyperbole, what's in the book? Well the work of 32 contemporary artists laying out their vision of a near-future, full of barren alien vistas, industrial decay, cyberpunk opulence and geometric oddities. Akane Marubeni's deceptively simple linework and flat covers mask just how complex the compositions truly are, in an MC Escher nightmare of doors and stairwells, magical books and space-faring imagery. Contrast this with the incredibly detailed and vast spaces created by Evilvit that you can literally stare at forever and still not assimilate every detail, and you have two artist bookends to a world of delights in between.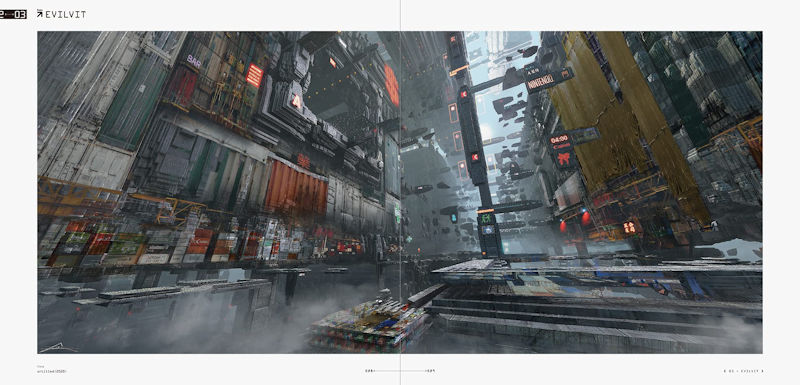 Shades of "The Expanse's" loading bay scenes in this epic illustration
Wanella's pixel art cyberpunk streets are a genuine delight to a Gen X'er like myself, any one of these illustrations could happily sit on an Amiga action title like Another World, while Novelance creates imagery lifted straight from 2001, with his barren space-station imagery. It feels epic.
I won't list every artist, but whether you love dark or gothic sci-fi (Esuthio, Rolua), bright and cheery cartoon-esque future fashion(Shinya Mizuno), futuristic steampunk (Kuroimori) or even retro-sci-fi gadgetry courtesy of Sheng Lam then this book has you covered. It's everything you love about space and adventure in a book that likes to surprise you, one page after another.
The final jewel in the crown is a fully translated 16 page article on the creative process of Atsuya Uki, who created the cover for this volume. It's a rare in-depth piece that's very helpful in coming to terms with how a person can dream up such a unique landscape.
As always, PIE International shows impeccable taste when it comes to these compilations, and a great sense of craftsmanship in how it puts everything together in a way that flows and delights. Honestly, put me in a room with a table, some coffee and a copy of this book, and hours will pass in happy wonderment.
A total trip without leaving your own sofa.
You can buy the book at Amazon and all good book shops.
Follow A.I. on Twitter and Like us on Facebook to get all the latest site updates