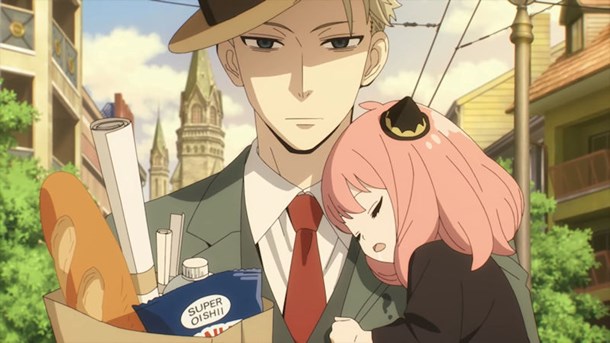 ---
Spy x Family - First Thoughts
Posted on 11 Apr 2022
---
It's not often I'm getting into an anime as it airs, but I'm very pleased that I jumped on Spy x Family, the anime adaptation of the hit manga from Tatsuya Endo.
The show has just started airing in Japan, and Crunchyroll are streaming the series simultaneously. At the time of writing, only one episode is available, but if it's anything to go by, the show has captured the feel of the manga perfectly.
Man of mystery "Twilight", our titular spy, is at the top of his game. A master of disguise, superb fighter and something of a ladies man, he always gets the goods and does it with a quiet air of confidence that has earned him the ire of many a mobster. However, his latest mission requires accessing the school that teaches the son of an extremist, and for that he'll need a child to pass the exams...
As fate would have it, the first orphanage he visits is home to the incredibly cute Anya, who absolutely steals this show the second she turns up on screen. She. Is. Adorable!
She's also a telepath, and by reading Twilight's mind, she's able to prove herself smart enough to be useful on his mission, and the precocious little cherub is enlisted.
From this point on, it's almost all about Anya. She's perfectly bratty, vulnerable, playful and earnest, to the point that your heart fairly breaks when he decides his mission is putting her at too much risk and decides to return her to the orphanage - of course Anya can read his mind and is just desperate not to go back. Thankfully our master of disguise changes his mind, and the two work together to pass the exams and find a safe place to live.
By the end of the episode, we've seen subterfuge, fights, telepathy and gadgets, but the real take away is the dynamic between the characters and the effect they have on each other. Twilight's steely countenance and Anya's youthful exuberance are a lot of fun to watch, and the ending leaves us in no doubt as to where we're headed next, as the school they have successfully infiltrated requires a meeting with student, father and... mother. To quote Anya - "Gawk?!"
Spy x Family always had a pretty good shot at winning me over, after all it simply needed to stick to the manga and it was guaranteed to be a winner. The animation is standard TV fare, but it's very sharp, with detailed backgrounds and a glossy colour palette. The direction is nimble when it needs to be, with fights well choreographed and exciting to watch, but it's the way the camera just lingers on Anya's big ol' eyes and cute expressions that melts your heart.
The overall tone of the show is quite playful - for example, Anya is student number 007, an obvious nod to Fleming's iconic agent. The missions are often a bit daft - the episode opens with pictures of a wig slipping on a prominent minister, because somehow that will end his career, so more The Kingsman than The Bourne Identity.
So first thoughts? Watch it - while I'm never able to catch everything in a given season, I can spot a gem in the crowd when I see one. If you've not read the manga you're in for a real treat, and for fans of the books, you'll be pleased to see the family brought to life with such attention to detail and delightful voice acting.
Highly recommended.
Follow A.I. on Twitter and Like us on Facebook to get all the latest site updates