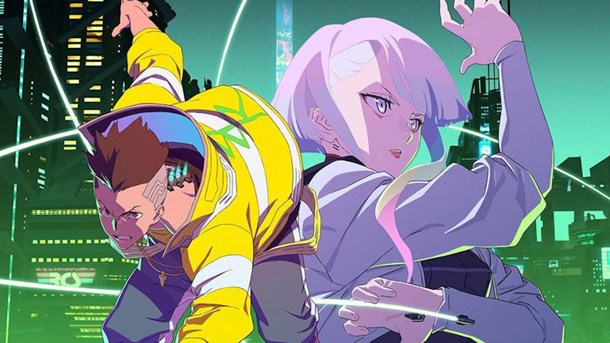 ---
Cyberpunk 2077: Edgerunner First Thoughts
Posted on 16 Sep 2022
---
I've never been a huge fan of the whole cyberpunk aesthetic, something about the body-horror infestation of technology into the body always left me a bit cold, and the punk-grunge element isn't my bag either. I'm not very "street" having grown up in a very wholesome country environment, so there's not much allure to busy, dirty cities full of badly dressed yobs.
But that's just me.
Despite this aversion, I found the trailers for the latest Netflix anime original to be rather interesting. The NSFW version really lived up to its name, and largely I found it kinetic and interesting enough to give it a go. And my, what a pleasant surprise this was!
As always, I save my full reviews for the "big brother" site, UK Anime Network, but I do like to jot down my initial thoughts here as they often make for interesting contrasts by the time I've watched the rest of the show. Bastard in particular started well, but soon degenerated into a pretty tame imitation of Berserk with a randy protagonist. Ultimately I didn't want to watch part 2 of the season, so I'm leaving that to someone else. I get the feeling that Edgerunners might go the distance.
Firstly, the story is pretty compelling from the off. Our hero is a street-rat going to a decent school thanks to the enormous sacrifices made by his single-Mum, but it's not long before his tenuous grip on this privileged world is lost, and he's down, out, and about to become a very bad lad.
There's a real underdog feel to the show, and the pacing is pretty much perfect. In one episode we have the entire setup for the series proper underway, aided by some stunning animation from Studio Trigger (no surprise given their pedigree) and tight direction by Hiroyuki Imaishi. The slick style, bright lights and grimy streets actually look pretty amazing taken together, and it has me reevaluating my own opinion on the genre as a whole.
The character designs are really nice, splendid work as ever by Yoh Yoshinori (Little Witch Academia, BNA) and I'm eager to see some of the characters teased in the trailer make their entrance. I may also eye up a few figures when they're inevitably released.
Special shout out to the music too - damn, it's good. Akira Yamaoka is noted for his haunting work on Silent Hill, but bloody hell he can mix like a pro when it comes to futuristic beats. What a legend!
So overall, not only was I won over into a genre I usually avoid, but I'm actually looking at picking up the game as well. Such cross-promotional media tie-ins are really there as sales tools, but there's some real art to this series and that in turn buys it a great deal of goodwill as I take a fresh look at the series as a whole.
In short, fan or non-fan, the show is worth a look. I think you'll be hooked after just one episode.
Follow A.I. on Twitter and Like us on Facebook to get all the latest site updates