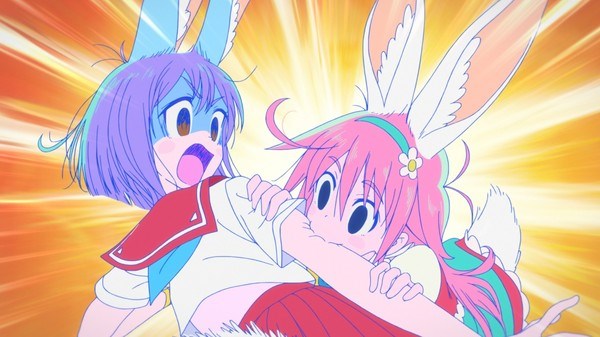 ---
The death of Anime on DVD
Posted on 05 Jul 2018
---
Earlier this year, MVM Entertainment announced that their Blu Ray/DVD combo Limited Edition box for Flip Flappers was being changed to a Blu Ray-only release. When asked the cause, they stated that it was due to their partners dropping the DVD format, forcing MVM to create their own DVD masters or follow suit. Thankfully MVM invested for the benefit of their audience, but how much longer is that strategy viable?
Certainly the cost of supporting dual formats has eaten into company profits, and with DVD now eclipsed by the success of Blu Ray as a format, it seems it may not be long until DVD is gone for good.
It is important to note that with anime in particular, it is the orders from the larger companies such as Amazon that determine the success or failure of a title. When Amazon orders 1,000 copies of a title, you know you have a hit, and it's how Monster Musume sold out on pre-order (only 1,000 units were created, most went to Amazon!). So for each company, every print run on DVD or Blu Ray is a gamble. Reducing half of your production costs, or concentrating on the most popular format, does make financial sense.
However, my speculation (close as I am to the anime market) is no substitute for those at the top, so I spoke to Tony Allen, owner of MVM Entertainment, about the state of DVD within the industry.
When did you find out that Sentai and Madman (I assume the US and Australian partners you referenced on facebook) were dropping DVD, and was it a surprise?
Just earlier this year. We all suffer the same problem of minimum print runs on two formats where sales are then split across those formats and often leaving us large quantities of stock. Recent increases in costs of warehousing unsold and slow moving stock has made it all the more important to consider the hard economics of servicing two formats. It's just a repeat of the old VHS / DVD position.
For MVM titles, what is the current sales split between DVD and Blu Ray, and are some titles still stronger on DVD than Blu Ray?
On new release about 60/40 in favour of Blu-ray. Fan titles sell stronger on Blu-ray. Back catalogue sales tend to be more on DVD.
Is this a split you're seeing directly from the consumer, or have outlets like Amazon changed their buying patterns?
Certainly Amazon have changed buying pattern but as this is consumer driven, in that they buy to order, it is fair to say it's consumer led.
You've stated that you'll continue to author DVD releases solo for now, exclusively for the UK market, do you feel strongly that dropping DVD would lose sales rather than convert people to Blu Ray?
We have solo authored some titles but it is expensive. I am coming round to the argument that if there is only one format available then it will be purchased.
Have you discussed the issue with other UK anime distributors (as the UK distribution market is pretty close and friendly), and if so, what is your sense of their position?
Not really but it is evident that in some cases they have already acted in the same way. We all use USA sourced masters and if they are not available the same situation applies.
At what point, if at all in the foreseeable future, do you see MVM dropping DVD as a format?
For titles from Q4.
So by the sounds of it, MVM Entertainment will be dropping DVD format for 2019 - time will tell if the other UK companies follow suit, but it certainly seems that DVD is in its final stages in the West.
I'd like to thank Tony Allen for his time answering my questions.
Follow A.I. on Twitter and Like us on Facebook to get all the latest site updates