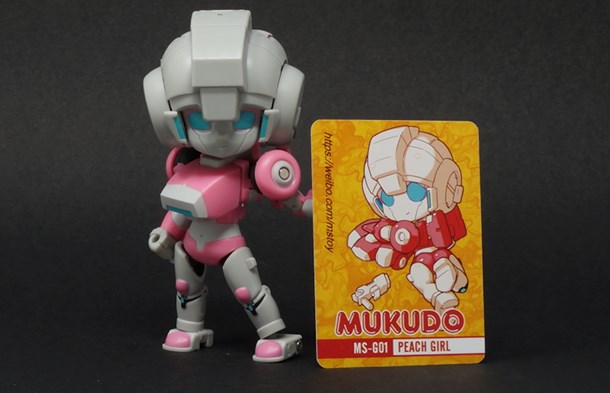 ---
Mukudo Peach Girl (Chibi Arcee)
Posted on 22 Nov 2020
---
So, a bit of a confession before we start - I'm not a collector of chibi-style figures, nor do I pick up their distant cousins the Funko Pops. As such, Mukudo's "Peach Girl" (aka Chibi Arcee) is a step outside the norm for me. The closest figures in my collection are my Fewture Samurai Pizza Cats, so of course I had to put Peach Girl with Pururun in the photos!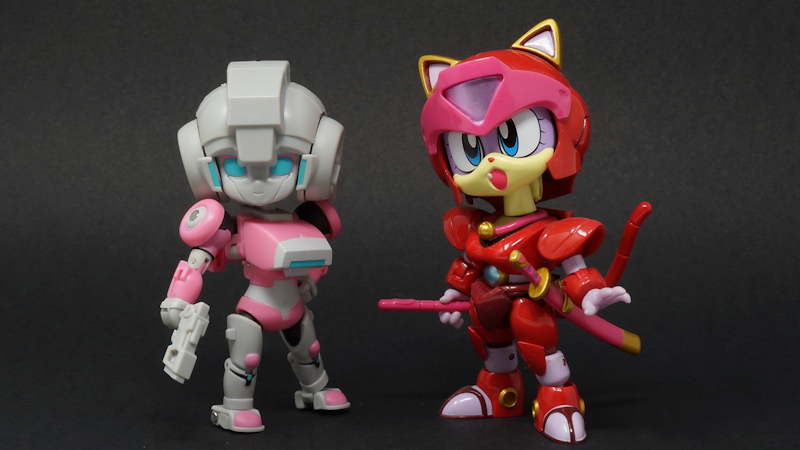 The crossover of my dreams
So, what we have here is a transforming Arcee that seems to be based on her Lilformer's incarnation as drawn by the talented Matt Moylan. It's not a bad representation either, with clear paintwork (sparse at it is) highlighting the details nicely, enough articulation to get you some nice poses and a couple of accessories that are almost as cute as the figure herself.
She comes with a stubby little sword (knife?) that has a pleasing teal blade, and a little grey gun. The blade becomes the aerial/spoiler in car-mode, but there's nowhere to stash her shooter.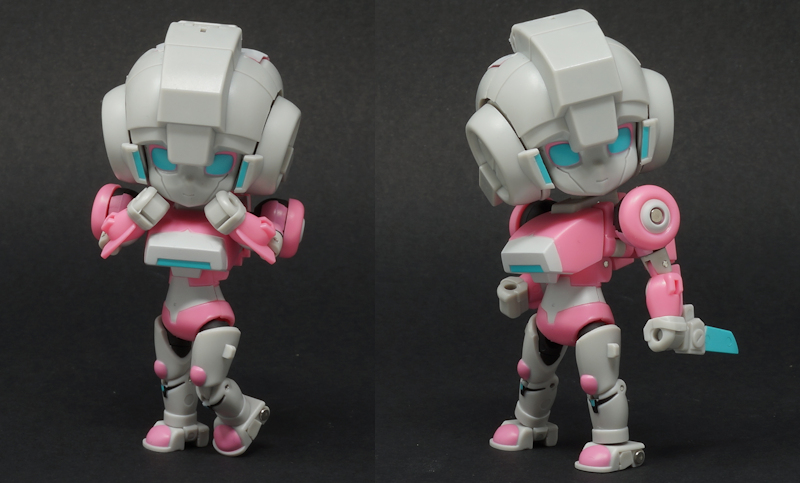 Cute and deadly.
The figure has decent articulation - joints in the knees, ankles (tilt but no forward/backward motion) and hips give her little legs plenty of posing options, though there's no stand or accommodating port for one, so stability is an issue un-aided.
Her arms are on ball joints, slightly limited by limited by the head, which itself has a decent range of motion, but can't look down.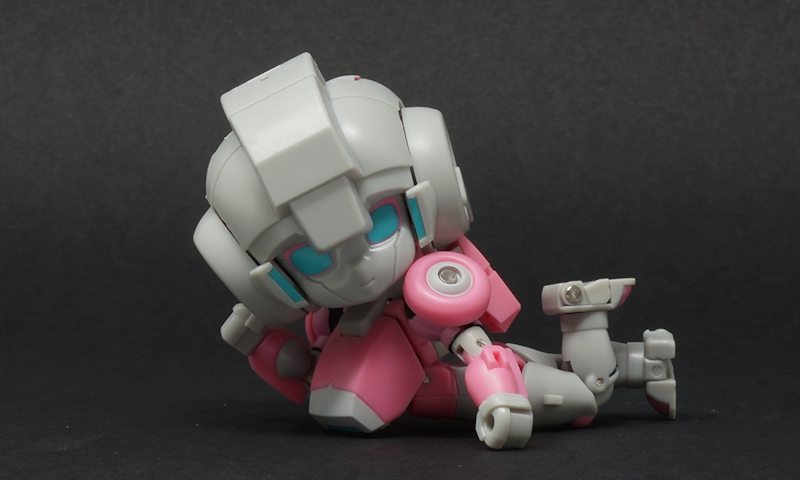 Too adorable for words...
The grey used on the traditionally white parts is an odd choice as it looks a little unfinished. Granted, there's nothing worse than cheap looking white plastic, but it really doesn't pop the way you might want it to. I suppose the £25 price tag does limit what they can do for you in the factory when it comes to paint, but it does feel a bit like an a missed opportunity, especially as this is the first figure out of the gate.
The plastic quality is fine, and the finish is mostly pretty polished, with only a few mould-flashing issues (on the head) to bring it down a peg or two. There's no die-cast, so she's light as a feather, but for the money, it's perfectly fine.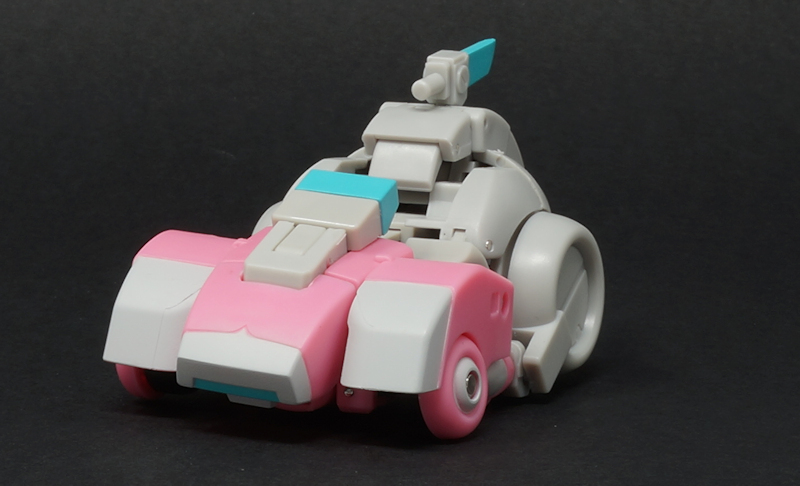 Car Mode is cute nonsense.
The transformation is mostly in the head, with panels sliding out to provide the bulk of the car mode, while her petite body just sits inside the shell, as it does with most Arcee-inspired figures. The finished car mode is functional at best - 4 wheels hit the ground and it does roll, but it's not really that typical of the Arcee car-mode. Still, it is nice that the effort was made to prevent this being a simple Transformer bobble-head.
So in the end, we have a cute little curio that dedicated Arcee aficionados will should enjoy. She's very cute, can pose surprisingly well given the limitations of her design, and for fans of Matt Moylan's work, the perfect realisation of his stylised aesthetic. Modders with more skill than I may have a bash at enhancing that grey, but if you like the look of her I can see no reason not to pick her up for under £30.
Follow A.I. on Twitter and Like us on Facebook to get all the latest site updates